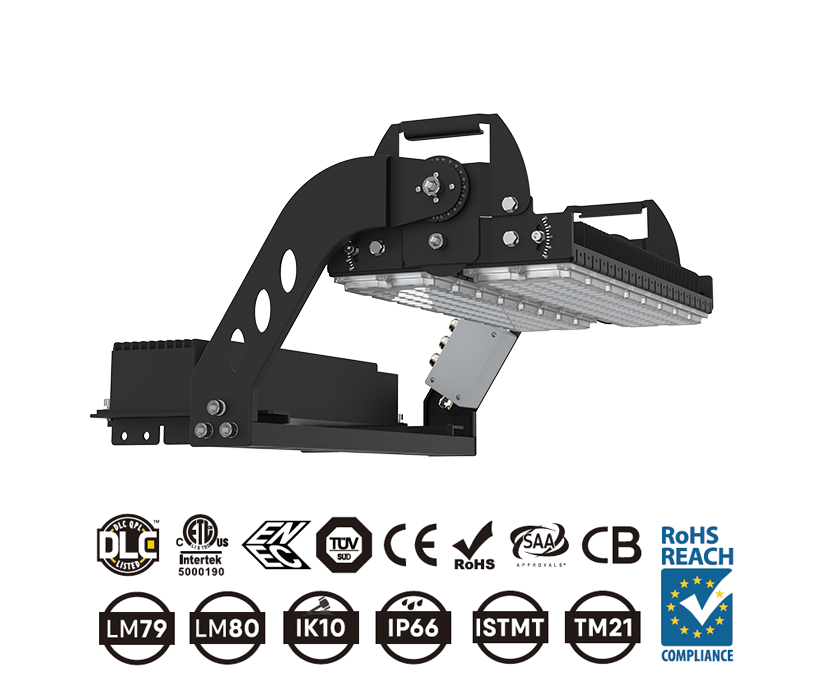 400W 480W ProX LED High Mast Light LED Stadium Lights LED Sports Lights
LED Stadium Lights and LED Sports Lights are an excellent choice for sports lighting applications due to their low glare and uniformity lighting characteristics. These lights are designed to provide bright and even illumination to the playing field while minimizing glare and light spill, which can improve the viewing experience for spectators and the playing conditions for athletes. LED lights are also more energy-efficient and long-lasting compared to traditional lighting sources, which can save on energy costs and maintenance expenses over time. Additionally, LED lights produce less heat than other lighting sources, which can help reduce the ambient temperature in enclosed sports facilities. Overall, LED Stadium Lights and LED Sports Lights are a great option for sports lighting that can enhance the quality of the game while promoting energy efficiency and sustainability.
IP66 & IK10 protection rate
ENEC TUV CE CB SAA RoHS
LM79 LM80 TM21 IK10 Salt Spray
Dali2.0 & DMX Fuction
Modules Rotatable 88°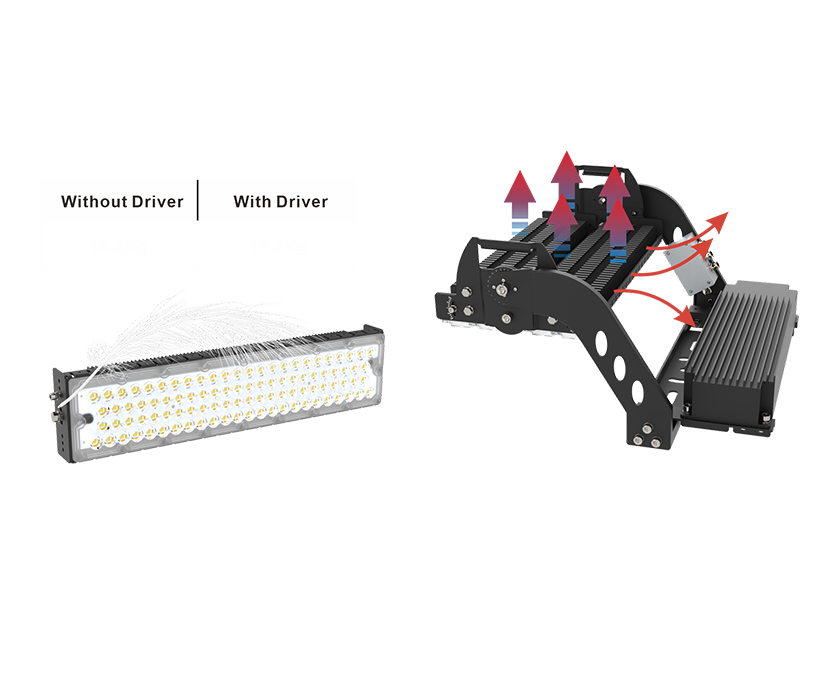 Folding Aluminum Fin Design
Folding aluminum fin design is a type of heat sink design that is characterized by its light weight and compact size. This design is achieved by folding thin sheets of aluminum into a fin-like shape, which allows for maximum surface area for heat dissipation while keeping the overall size and weight of the heat sink to a minimum.
The light weight of the folding aluminum fin design makes it easier and safer to install, as it reduces the risk of injury or damage during installation. In addition, the smaller size of the heat sink allows it to be used in applications where space is limited, while still providing effective heat dissipation.
Furthermore, the folding aluminum fin design also helps to reduce maintenance requirements, as it is less prone to damage from external factors such as vibration or shock. This can help to improve the reliability and longevity of the heat sink, which is particularly important in applications where downtime is costly or disruptive.
Lightweight
Compact size
Improved heat dissipation
Reduced maintenance
Cost-effective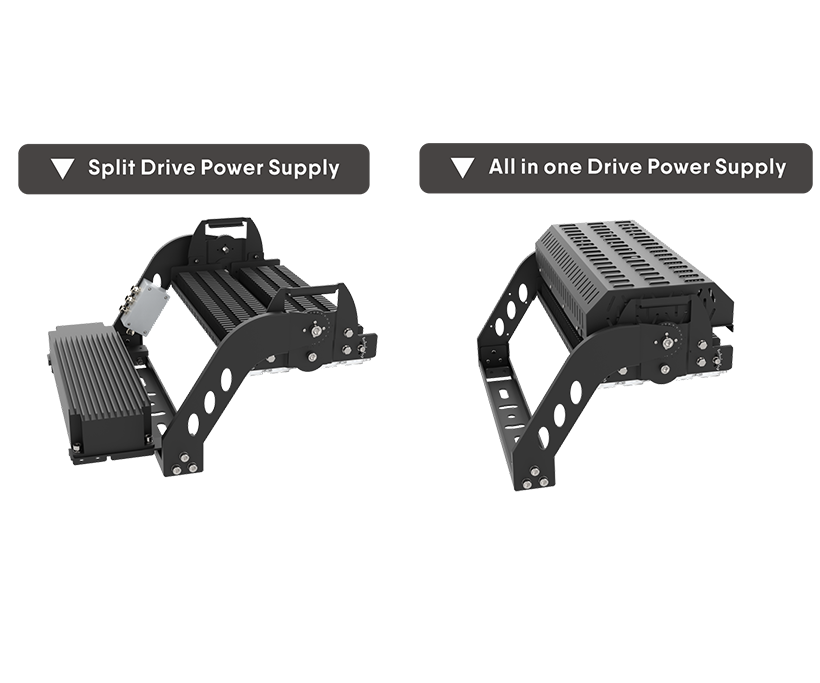 Drive Power installation design approach
In order to adapt to various scenarios of installation, two drive power installation methods are designed, and the drive power installation is divided into separate and integrated type
Split Drive Power Supply
All in one Drive Power Supply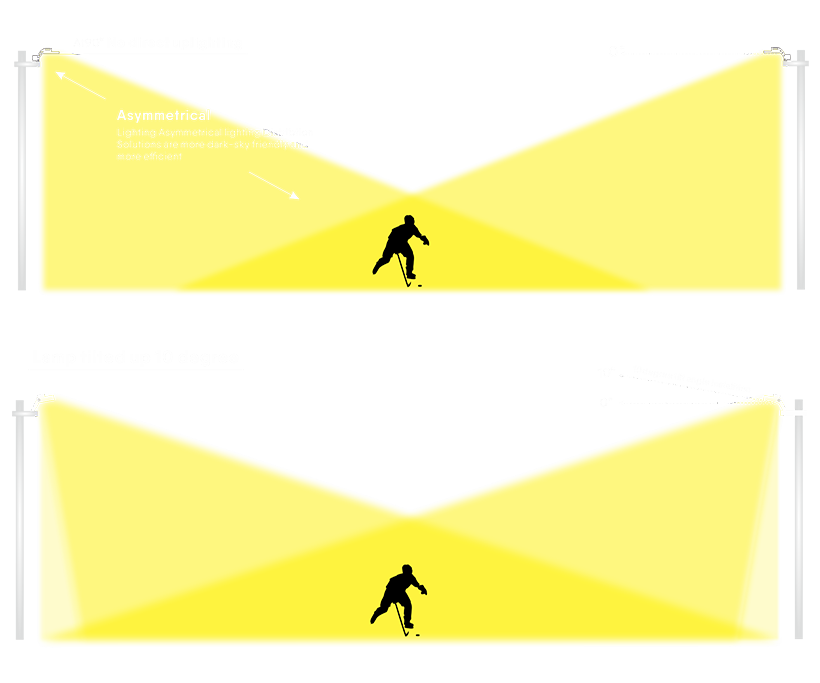 No upper light output ratio (ULOR 0%) when mounted at 0° & 10° tilt
PROX LED high mast lights are modular in design with various asymmetrical beam angles for precise lighting distribution,
professional optical lens for sports field P50&P60-L can be mounted at 0° horizontally to reduce wind resistance,
No upper light output ratio (ULOR 0%) when mounted at 0° tilt. The drive power supply is convenient for various
installation applications and uses a folded fin aluminum heat sink with key features such as small size, light weight,
good heat dissipation, and favorable price. Optional DMX, DALI2.0 intelligent control.
Lamp tilted up 0°
Lamp tilted up 10°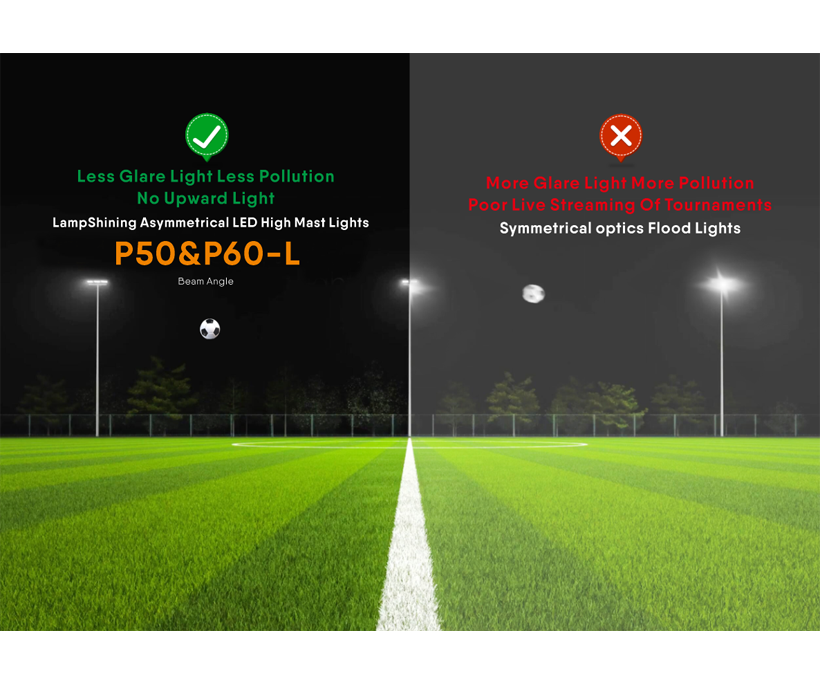 Polarized Light Design Asymmetrical optic P50&P60-L
No overflow upward lights which emits no light pollution to sky,no light pollution to audiences or neighbors'space
Asymmetrical optical lenses like P50 and P60L can be an effective way to reduce light pollution and direct light where it's needed. These lenses are designed to distribute light asymmetrically, focusing more light in one direction than another, which can be useful for illuminating specific areas without creating excess glare or light pollution.
No overflow upward lights
No light pollution to sky
No light pollution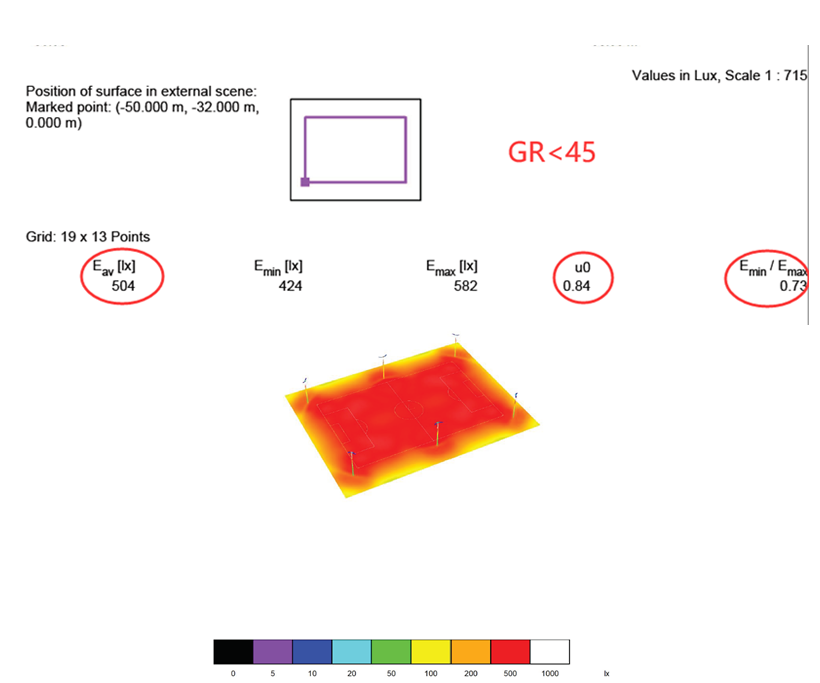 Football Field 100*64m simulation based
Football Field 100*64m simulation based on LSHM-1000W-LV(XXK)ProX P60-L asymmetrical optic
low Glare Rating, GR<45
higher uniformity up to 0.8