PROX LED HIGH MAST LIGHT 400W~1440W High Luminaire Efficiency Up to 200Lm/w

PROX LED high mast lights are modular in design with various asymmetrical beam angles for precise lighting distribution, professional optical lens for sports field P50 P60-L can be mounted at 0° horizontally to reduce wind resistance, No upper light output ratio (ULOR 0%) when mounted at 0° tilt. The drive power supply is convenient for various installation applications and uses a folded fin aluminum heat sink with key features such as small size, light weight, good heat dissipation, and favorable price. Optional DMX, DALI2.0 intelligent control. 88 degree adjustable bracket, combined with professional aiming-device, can help to light where you need. With flexible installations, driver can be fixed on the fixture bracket, remotely installed at the bottom of pole, or fixed into electric cabinet.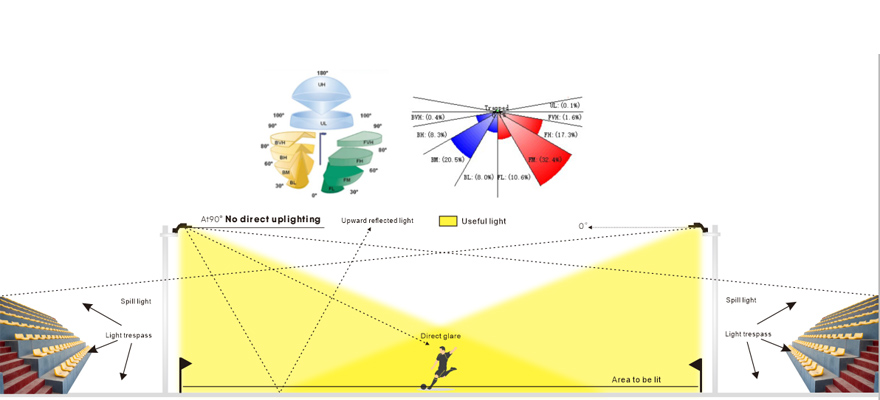 ・High luminaire efficiency up to 160~200LM/w
・Marine grade aluminum housing
・IP66 and IK10 protection rate
・5 years warranty
・Comes with DMX and Dali function,remote driver box available
・Folding Aluminum Fin Design Which is very light weight
・5mm thickness turnnion bracket
・Both single module and full lamp are rotatable.
・Power supply is mounted away from heat sink which ensures great lifespan of the power supply.
・Asymmetrical Optic allows lamp to be installed horizontally No overflow upward lights which emits no light pollution to sky,no light pollution to audiences or neighbors space
・Asymmetrical P50-L & P60 optics produce very low Glare Rating, GR<45,lights were forwarded further away which produces a higher uniformity up to 0.8
・Flicker free LED Power Supply.
・Multiple protection: SCP, OVP, OTP.
・Max remote distance 200 meters.