Specifications
| | |
| --- | --- |
| Model | LSVSL-80W-LV(XXK) |
| Watt | 80W |
| Lumen | 12,000 |
| Efficiency | 150Lm/W±3% |
| Chip Brand | Lumileds 3030 |
| Input Volt | 100-240VAC |
| Driver | Meanwell ELG-100-48A |
| CCT | 3000-6000K |
| IP & IK Rating | IP67, IK10 |
| Arm Dia | 60mm |
| Size | 477*320*86mm(non-rotatbale) / 542*320*88mm(rotatable) |
| Weight | 5.2kg |
| Housing thickness | 2.5mm |
| Surge protection | 6KV |
| Beam Angle | TypeIII |
| Color Temp | 3000-6000K |
| Lifespan | > 50,000 hours |
| Replacement | 180-200W HPS,MH,HQI |
| Certficates | ENEC TUV CE CB SAA RoHS LM79 LM80 TM21 IK10 Salt Spray test approved |
80W LED Street Light
Lampshining newly developed LED Street/Area Light has an industry-leading 145-150LM/W for high efficiency and reliability. With IP67 waterproofing and IK10 protection, LED Street Light can work in harsh environments and deliver outstanding performance. Lampshining LED Street/Area uses Philips' high-quality Lumileds 3030 light source and has a professional power supply design that is extremely durable and safe. The configured Photocell can minimize the cost of light for energy saving and environmental protection. Easy to maintain, you can enjoy the best lighting and safety.
Size
Features
Aluminum (ADC12) die-casting molding;

The surface is treated with black spray powder added with metal powder specially for outdoor use, which can increase the concave and convex feeling of frosting and expand heat dissipation; area Lens surface frosting treatment, suitable for 5050/3030 lamp beads, different lenses for different environments;

The back of the lens groove prevents light leakage;

Meet the 48-hour qualification requirements of salt spray test (GB/T 2423.17-2008);

Meet the requirements of continuous exposure for 28 days for solar radiation test (GB/T 2423.24-1995);

Comply with ROHS standard;

Waterproof integrated shell, waterproof grade up to IP67;

Products through a number of certification, ETL CE CB SAA ENEC IP67 IK10 salt spray test;
Selectable color
Certification

A number of authoritative certifications, allowing customers to use more confidence.With ENEC, SAA, TUV, CB, CE, RoHS, IK10, IP67,Flame Retardan, Salt Spray Test, LSTMT, LM79, LM80, TM21.
ENEC means safety in Europe, and all signatories of the ENEC Mark Scheme actively support its commitment to the highest safety levels.
IP67 Waterproof
The waterproof performance of the IP67 and the degree of protection of the IK10 allow the Venus LED Street Light to work in harsh environments.
Optional accessories
1.Depending on the usage scenario, you can choose a non-rotatable or rotatable sleeve.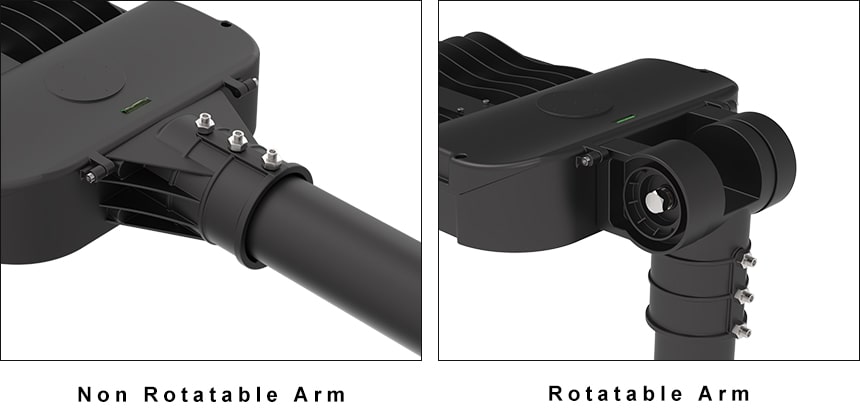 2.Optional Photocell, optional 0-10V dimming Photocell. The venus Street light Photocell integration controls the illumination of the fixture by detecting surrounding ambient light. Photocell base comes pre-installed, lock cap included in package when shipped and ready to apply during assembly, Twist-Lock Photocell automatically turns lights On at Dusk and O ffat dawn.
Application

2020 new venus series led street lights are suitable for street lighting, area lighting, highway lighting, parking lot lighting etc. Depending on the area, you can choose 50-240w led street light to replace 125w-750w HPS, MH,HQI.
Beam angle
<
Accessory: power supply
Meanwell ELG is standard,optional Meanwell HLG
Accessory: 10KV SPD Lightning arrester(Optional accessories)
The standard 100-277v fixture comes equipped with 10kA surge protection already integrated.
SPD1 surge protection devices is perfectly adapted for outdoor lighting to provide single phase protection for line/neutral, line/ground and neutral/ground in accordance with LEEE C62.41 2002 C High, UL 1449 and IEC61643-11.
Packaging

Model: LSVSL-80W-LV(XXK)
Package size : 62*41*17cm
weight: 6.3kg