Specifications
| | |
| --- | --- |
| IP Rating | IP66 |
| Power Factor | >0.95 |
| Frequency | 50 / 60Hz |
| Wind rating | 51.0-56.0m/s |
| Driver Type | XLG-240-H-A / ELG-240-48A / ELGC-300-H-A |
| Light Source | Lumileds 5050 |
| Input Voltage | 100-240 VAC / 100-277 VAC |
| CCT | 3000K 4000K 5000K 5700K |
| CRI | Ra70 (Ra80, Ra90 optional) |
| Life Time | L70/B10 >50,000hours |
| Dimmable | Dimmable and Non-dimmable |
| Warranty | 5 Years / 7 years extended warranty available |
| Beam Angle | 10° 20° 40° 60° 90° 135x60°(P50) 97x47°(TypeIV) 30x70° |
| Certification | ETL DLC ENEC TUV CE CB SAA RoHS LM79 LM80 TM21 IK08 Salt Spray test approved |
Dragonfly Plus LED Sport Light Power

240W LED Sport Light Module
Model No.

LSDHM-240W-LV
LSDHM-480W-LV
LSDHM-720W-LV
LSDHM-960W-LV
LSDHM-1440W-LV
Power Consumption
240W
480W
720W
960W
1440W
Luminous Flux(±3%)
39,600
79,200
118,800
158,400
237,600

Efficacy (5000K, Ra70)

165(±3%)LM/W
300W LED Sport Light Module
Model No.

LSDHM-300W-LV
LSDHM-600W-LV
LSDHM-900W-LV
LSDHM-1200W-LV
LSDHM-1800W-LV
Power Consumption
300W
600W
900W
1200W
1800W
Luminous Flux(±3%)
46,500
93,000
139,500
186,000
279,000

Efficacy (5000K, Ra70)

155(±3%)LM/W
LED Sport Lights 240-1800W
Dragonfly Plus LED High Mast Light Feature

1.5 years warranty;
2. Wind load: 51.0-56.0m/s;
3. IP66 and IK08 protection rate;
4. High luminaire efficiency up to 160lm/w;
5. Extended cable $1.0/meter (H05RN Rubber cable);
6. Drivers and modules come with female/male connectors;
7. ETL DLC ENEC TUV CE CB SAA RoHS LM79 LM80 TM21 IK08 Salt Spray test approved;
Quick Assembly of Modules
A. 600W is assembled by 2pcs 300W,900W is assembled by 3pcs 300W,1200W is assembled by 4pcs 300W;
B.You can stock plenty of single modules to assemble them into 2 modules,3modules and 4modules like LEGO by using different installation bracket and cable;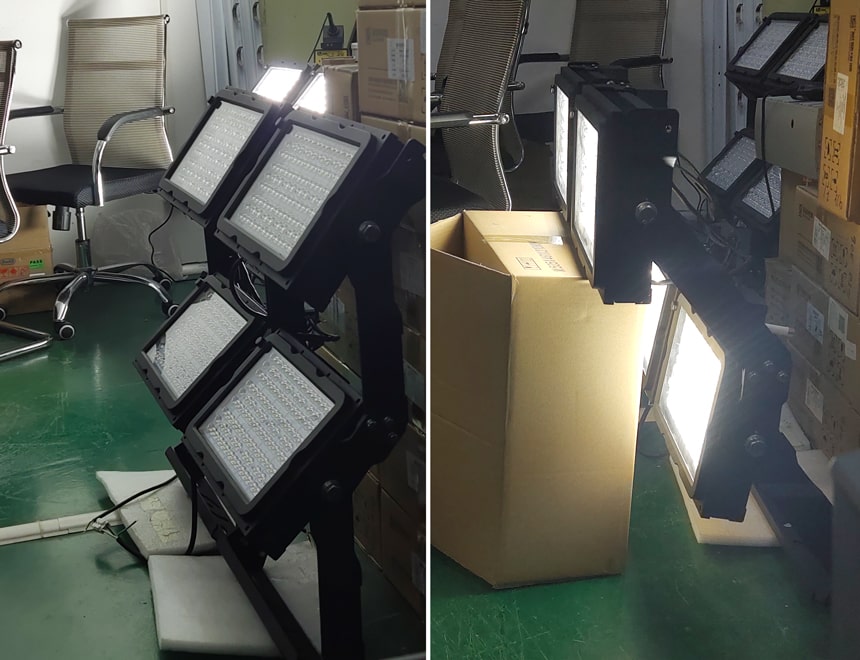 To assemble 240W-1800W with 1-6 modules. Modules are packaged separately to reduce shipping costs. AC is connected with M15 waterproof quick connectors. One module can be quickly composed with only 6 screws.
Easy combination
Tempered Glass + Lens
LED Sport Light use tempered glass + lens in order to prevent the lens turning into yellow after being exposed to sunlight for a period of time, which will lead to poor light transmision and even fogging may occur.Tempered glass + lens completely avoids this situation.
Module Rotatable
1.Marine grade aluminum housing, tempered glass cover and lenses;
2.Modules are 360 degree rotatable, arm comes with scale plate;
IP66 Waterproof & IK08
1.hot-dip galvanizing brackets, well protected from salf and acid rain;
2.Folding aluminum fin design which are very light weight;
Optional Installation Method
1.Ceiling Installation 2.Pole Installation 3.Wall Installation 4.Ground Installation
Application