Specifications
| | |
| --- | --- |
| Model | LSMSL-L180W-LV(XXK) |
| Watt | 180W |
| Lumen | 25,200 |
| Efficiency | 140LM/W±3% |
| Chip Brand | Lumileds 3030 |
| Input Volt | 100-240VAC |
| Driver | Meanwell XLG-240-H-A |
| CCT | 3000-6000K |
| Arm Dia | 60/ 76mm |
| Size | 30.15*15.11*5.55'' |
| Weight | 8kg |
| Housing thickness | 2.5mm |
| Surge protection | 10KV |
| Beam Angle | TypeII, TypeIII |
| CRI | >70 |
| Expected Lifespan | 50,000 Hours to 70% Brightness |
| Dimming Function | 1-10V Continuous/ PWM DALI Optional |
| Power Factor | >0.95 / 230VAC |
| IP & IK Rating | IP66 & IK08 |
| Thermal Management Type | Natural air cooling |
| Warranty | 5 years warranty |
| Cartifications | ENEC TUV CE CB IECEE SAA RoHS LM79 LM80 TM21 IK08 Salt Spray test approved |
180W LED Street Light
Size
Length
24.01in (610mm)
Height
4.37in (111mm)
Width
12.99in (330mm)
Height(w/photocell)

7.91in (201mm)

Horizontal





Height(w/photocell)

11.0in (279.5)

Vertical
180W LED Street Light Main Feature

Excellent for main roads, collecting roads, and roundabouts

Complete illumination across the entire roadway

No external reflectors required

Safe for industrial applications

High performance design

Dramatic energy savings
Before replacing the LED street light, the lighting is dim, the energy consumption is very large, and pollutants are generated, which is not environmentally friendly. Replaced with Mars LED street lights, energy savings of up to 80%, high luminous efficiency, good color rendering, and no pollution, truly achieve Security lighting.
The Mars Series outdoor LED street lights are equipped with dimming and management options. High efficiency of 140LM/W. Configure the dusk to dawn photocell sensor to automatically turn the luminaire on at dusk and automatically turn off at dawn, significantly reducing energy consumption. It is the best alternative to traditional high pressure sodium lamps and metal halides.

Self-cleaning
1.The smooth, anti-static surface of the reduces dust, sand and avoid bird droppings and other material accumulation. The UV protection and high strength anti-corrosion coating minmizes wear and increasesthe fixtures lifespan.
2.The dust will be washed away automatically by the wind and rain with the unique circular arc design and smooth surface, which is good for the lamp fixture heat dissipa-tion when all the dust is gone away.
Waterproof
IP66 protection with durable electrostatic spray which apply to harsh outdoor applications. Tool free for open, reasonable layout design brings simple maintenance.
Characteristics
1.Streamlined design makes the drag coefficient smaller, more beautiful and safer;
2.The surface is made of 4mm thick tempered glass, which can pass the IK08 anti-attack test.
3.Uses Die-cast aluminum, the thickness of the shell is 3mm, which is more conducive to heat conduction and divergence.
4.A graphene heat conductive material is used between the PCB and the heat sink, has a more stable heat dissipation.
Disassemble
The LEDS Module and Driver can be easily removed,allowing real on-site replacement at the end of its service life in order to take advantage of future technological developments. This easy and rapid procedure reduces. maintenance costs and contrbutes to reducing the total cost of ownership.
Mounting options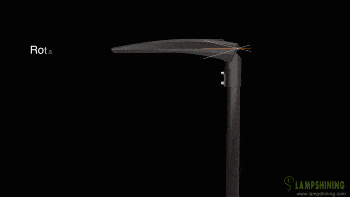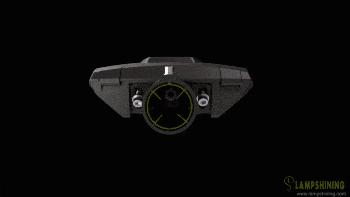 The LED light fixture includes simple installation with convenient abjustability.
The Mars LED Street light fixture can be mounted horizontally or vertically with our universal slip fit Mount. simply detach and rotate the slip fitter 180° to achieve the vertical orientation. Both orientation options include the ability to rotate 15degree or more.
Application
IP66 waterproof protection is equipped with a dawn sensor at dusk, making Mars LED street lights suitable for most outdoor lighting, such as street, road, station, school, park, playground, market and other road lighting.
Beam angle
Accessory
Accessory:Disconnect switch(standard configuration)
The full range of standard open circuit switches, open the power cover will cut off the power supply of the entire lamp system, plus cut off the mains before installation to double The role of heavy protection. Close the power cover and power it on.
Accessory: 10KV SPD Lightning arrester(standard configuration)
The standard 100-277v fixture comes equipped with 10kA surge protection already integrated.
SPD1 surge protection devices is perfectly adapted for outdoor lighting to provide single phase protection for line/neutral, line/ground and neutral/ground in accordance with LEEE C62.41 2002 C High, UL 1449 and IEC61643-11.
Accessory: Photocell(Optional accessories)
The Mars Street light Photocell integration controls the illumination of the fixture by detecting surrounding ambient light.
Photocell base comes pre-installed, lock cap included in package when shipped and ready to apply during assembly, Twist-Lock Photocell automatically turns lights On at Dusk and O ffat dawn.
Accessory: Mounting(standard configuration)
The Mars Street Light comes standard with a 60mm slip fitter.
Optional slip fitter mounts are available at 60mm, and 76mm diameters.
Package details

80*41*17cm
Luminaire Weight: 9.5KG