Specifications
Model


LSNFL-300W(XXK)
Watt
300W
Lumen
46,500
54,000
Efficiency
155Lm/W±3%
180Lm/W±3%
Input Volt
220-240VAC
Chip Brand
Lumileds 5050
CCT
3000-6000K
4000K, 5000K
Driver
Meanwell XLG-2*150-H-A/ Sosen 2*SS-150GA-56

Size
565*486*69mm
Weight
10kg
IP & IK Rating
IP66 & IK08
Beam Angle
20, 40, 60, 90, 30*70, 97*47(Type 4),135*60 degree(P50);
Output current
0.92A
Number of lamp beads
72
Output voltage
48V
Certifications
Reach ETL DLC TUV CE CB SAA RoHS LM79 LM80 TM21 IK08 Salt Spray test approved
300W LED Billboard Light
NEMO series LED billboard lights are the best choice for commercial, industrial sign renovation or new billboards. Perfectly solve the problem of high energy consumption. The 180Lm/W high-efficiency commercial LED billboard light saves more than 75% of electricity consumption.
Through our website, you can learn about the purchase of LED billboard lighting and sign fixtures for commercial lighting projects or renovations. In the outdoor advertising industry, lighting is very important in order to make billboards attractive. Ultra-thin, high color rendering and high efficiency are the advantages of our LED lamps, designed to meet the needs of outdoor lighting.
The 270° design allows for an optimal illumination angle for uniform illumination during installation. The configuration of the dusk to dawn sensor allows the LED to automatically turn off during the day and automatically turn on at night to achieve perfect lighting while greatly reducing energy consumption.

Integrated aluminum material (ADC12) die-casting;

The surface is made of black powder sprayed with special metal powder for outdoor use, which increases the frostiness and convexity and expands the heat dissipation area;

The chip terminal can be plugged and unplugged between the PCB and the power supply for post-maintenance (replacement of the drive or light source board);

Tempered glass adopts snap-on fixing method, which is convenient for post-maintenance (can be opened without tools);

The lightweight and ultra-thin design ensures light weight and is easy to transport and install under the premise of ensuring heat dissipation of the lamp;

The streamlined appearance has a small drag coefficient, which is also conducive to air flow and heat dissipation Meet ROHS standards;

The outer casing is waterproof and integrated, and the waterproof level can reach IP66;

The product has passed multiple certifications, ETL DLC TUV CE CB SAA RoHS LM79 LM80 TM21 IK08 Salt Spray test approved
Size
Configure dusk to dawn sensor
With the NEMO series LEDbillboard flood light, because it is equipped with a dusk to dawn photocell sensor, the fixture will automatically turn on at dusk and automatically turn off at dawn, saving energy and labor costs.
Support Series circuits
NEMO led flood light support series circuits.
Installation method

Different installation methods can be selected as needed.
The LED floodlight can be rotated to the optimal illumination angle according to the lighting requirements of the billboard.
Application
The IP66 waterproof and lightweight high-power design makes this LED floodlight ideal for outdoor billboards and sign lighting. Make your ads more attractive.
LED lighting solution customization
Our engineers can perform professional DIAlux simulations for your billboard LED lighting for free. You only need to provide relevant information, and our engineers will choose the best combination of power and beam angle for you.
This high quality NEMO LED flood light is designed with the latest technology for optimal performance and is ideal for signs, accent architecture,flags, billboard. LED technology has a longer life expectancy than fluorescent lighting, and emits no UV rays,contains no mercury, and does not flicker.

Beam angle
The product also has an anti-glare function, which illuminates the billboard like sunlight, so that the billboard can be displayed better. 20, 40, 60, 90, 97*47(Type 4), 135*60(P50).
Accessories
| | | |
| --- | --- | --- |
| | | |
| Slip Fitter | Photocell sensor | 1-10V Dimmable |
| | | |
| SPD 10KV or 20KV | NEMA 3pin Photocell | Shorting Cap |
Anti-glare cover
Optional plug wires and Extended wires
1. Please make sure that all wires are connected correctly when you are installing it.
2.Optional plug wires and Extended wires.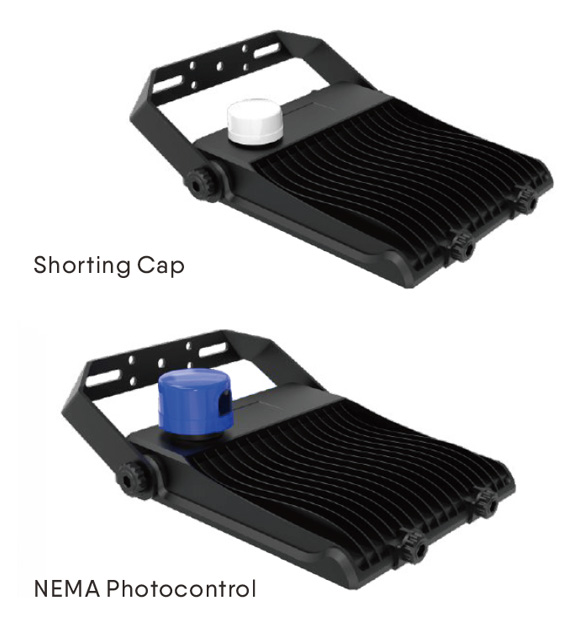 Packaging
300W: 1pc/CNT
carton size: 57*51*13cm GW: 7.0Kg