Specifications
Model


LSGL-300W-Linear

Watt
300W
Bar QTY
1 bars
LED Brand
SEOUL
PPF

840 μmol/s
PPE
2.8 μmol/J±3%
LED QTY

1000pcs warm

500pcs white

40pcs 660nm

Input Volt
100-277VAC
Dimmable
Standard 0-10V
Life time
L90>54,000 hours
Weight
4.5Kg
Size
603*149*109mm
Beam Angle
120 degree
Certifications
ETL & DLC
Why use LED grow lights?
1.Promote plant growth;
2.Improve plant quality;
3.incerase disease resistance;
4.Supplement plant nutrition;
5.Supplement plant light;
6.Can replace natural light;
LED Grow Light 300W - Full Spectrum Plant Growing Lights for Grow Tent, Greehouse Plant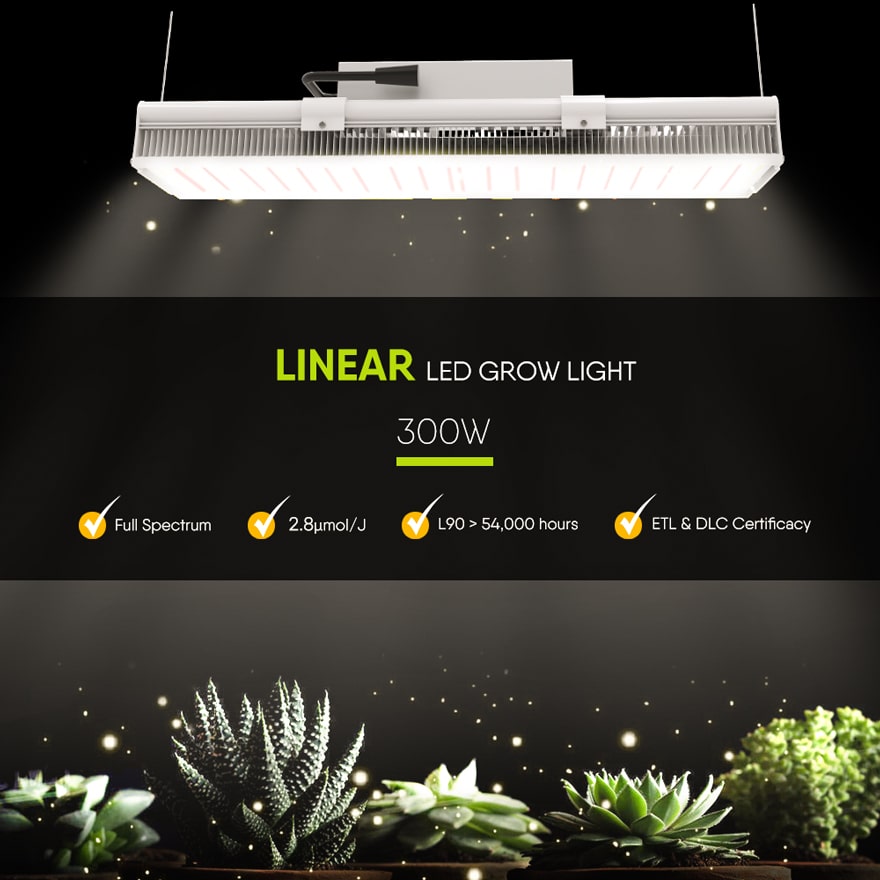 Full spectrum - adopts the latest full spectrum plant growth lighting and incorporates the characteristics of LED technology.
1. The full spectrum is suitable for each growth period of plants, and can be designed and adjusted for different types of plants, such as tomatoes, succulents, vegetables, seed germination, hemp, etc.
2. The color of the light emitted by the full spectrum is close to the visually warm light, and the light pollution is small. And it can provide the light needed by natural light for all stages of plants from germination to fruiting. This can control and increase the output, have better quality, and the characteristics of the LED can greatly reduce the energy of the whole process.
Higher efficiency - 2.8μmol/J! 300W LED growth can perfectly replace the traditional 600W HPS / MH, very suitable for grow tent and indoor gardens, greenhouses, etc.
DLC & ETL certification - efficiency and spectrum are very important, but the safety of the lighting process and government subsidies are equally important. Linear series grow lights have passed DLC & etl certification. It complies with safety standards to ensure safe operation.
Lamp design - 54,000 hours of service life, sturdy and durable. Fin heat dissipation design, light weight, better heat dissipation effect. No fan, no noise, low temperature, low light decay. It adopts the ratio of full spectrum + red light, which is softer than the light produced by the ratio of red, green and blue.
Dimmable 0-10V-In different stages of plant growth, such as early stage, growth stage, and flowering stage, the amount of supplementary light required is different. You can adjust the installation height of the lamps and adjust the brightness of the plant lights to achieve the most suitable growth lighting.
5-year warranty - product quality and professional customer service are our most important concepts. We provide a 5-year warranty for this Linear LED Grow Light. If you have any questions, please feel free to contact us to help your plants grow better.
Size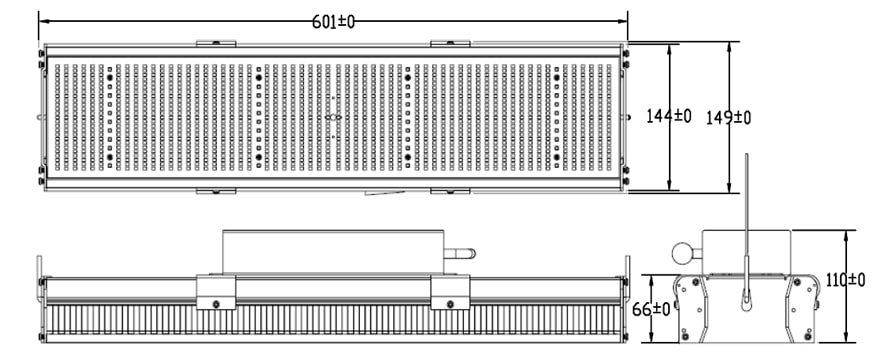 Structural features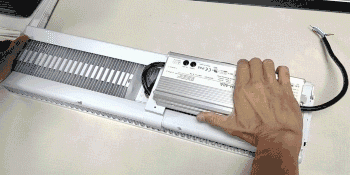 1.Linear led grow light adopts the separate design of the driver box and the heat sink, no fan, zero noise, lower temperature and lower light decay;
2.The driver is fixed on the buckle first, then the buckle is fixed on the heat sink, then the driver can be moved freely;
3.The surface is sprayed with Dow Corning waterproof glue, with low light decay, long-term dust-proof,anti-yellowing, and easy to clean;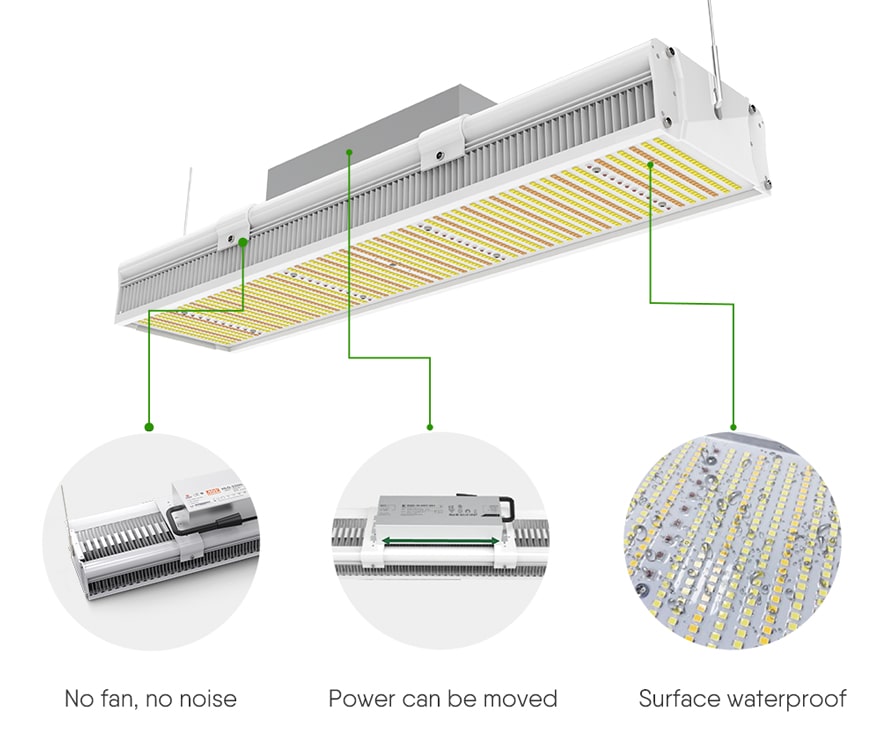 Application
LED grow light is very suitable for use in indoor gardens, potted plants, seeding, breeding, farms, greenhouse, planting, water-soluble breeding, flower breeding, greenhouse planting, pipeline cultivation, hemp plant greenhouse,leafy vegetables, medicinal plants, etc.

Since 2010, we have started the lighting business and have served thousands of customers. We are a professional manufacturer and supplier of LED grow lights. Our products are sold all over the world and are well received by customers.
LED grow light fixtures can help you greatly improve plant production efficiency, save more energy and have a longer lifespan than traditional plant lights. Contact us today to change your plant growth environment!