| | |
| --- | --- |
| Model | LSHM‐480W‐LV(XXK)PLUS |
| Watt | 480W |
| Lumen | 81,600 |
| Efficiency | 170Lm/W±3% |
| Driver | Meanwell 2*ELG-240-48A |
| Input Volt | 100-277VAC |
| Chip Brand | Lumieleds 5050 |
| CCT | 4000K, 5000K |
| Weight | 10kg |
| Size | 565*382*155mm |
| IP Rating | IP66 & IK10 |
| Wind rating | 51.0-56.0m/s |
| CRI | Ra70 (Ra80, Ra90 optional) |
| Life Time | L70/B10 >50,000hours |
| Dimmable | Dimmable and Non-dimmable |
| Warranty | 5 Years / 7 years extended warranty available |
| Beam Angle | 10 / 20 / 40/ 60 / 90/ 140*100/ 135*60 degree(P50) |
| Certification | TUV, CE, CB, SAA, RoHS, LM79, LM80, TM21, IK10, Salt Spray test approved |
| | |
| --- | --- |
| Model | LSHM‐600W‐LV(XXK)PLUS |
| Watt | 600W |
| Lumen | 96,000 |
| Efficiency | 160Lm/W±3% |
| Driver | Meanwell 2*ELGC-300-H-A |
| Input Volt | 100-277VAC |
| Chip Brand | Lumieleds 5050 |
| CCT | 3000K-6500K |
| Weight | 11kg |
| Size | 565*382*155mm |
| IP Rating | IP66 & IK10 |
| Wind rating | 51.0-56.0m/s |
| CRI | Ra70 (Ra80, Ra90 optional) |
| Life Time | L70/B10 >50,000hours |
| Dimmable | Dimmable and Non-dimmable |
| Warranty | 5 Years / 7 years extended warranty available |
| Beam Angle | 10 / 20 / 40/ 60 / 90/ 140*100/ 135*60 degree(P50) |
| Certification | TUV, CE, CB, SAA, RoHS, LM79, LM80, TM21, IK10, Salt Spray test approved |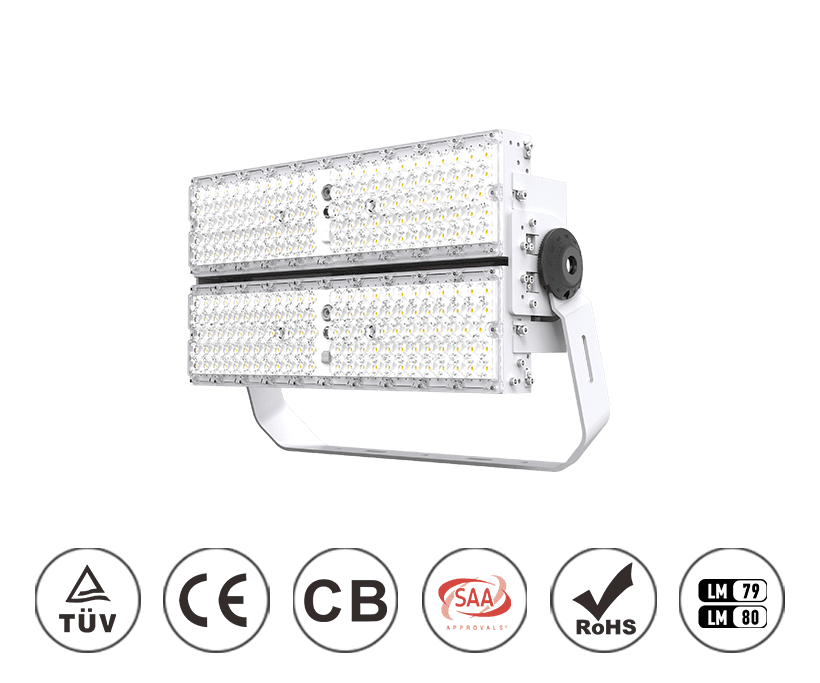 Slim Plus LED Flood Light 480W 600W
Slim Plus LED Flood Light is a perfect Outdoor lighting solution for Tunnels, airports, Stadium.
480W/ 600W
Lumileds 5050

160Lm/W
170Lm/W
3000K-6000K
TUV CE CB SAA RoHS
LM79 LM80 TM21 IK10 Salt Spray test approved
High quility LED Brand
Uses Lumileds 5050, High Efficiency 160-170Lm/W.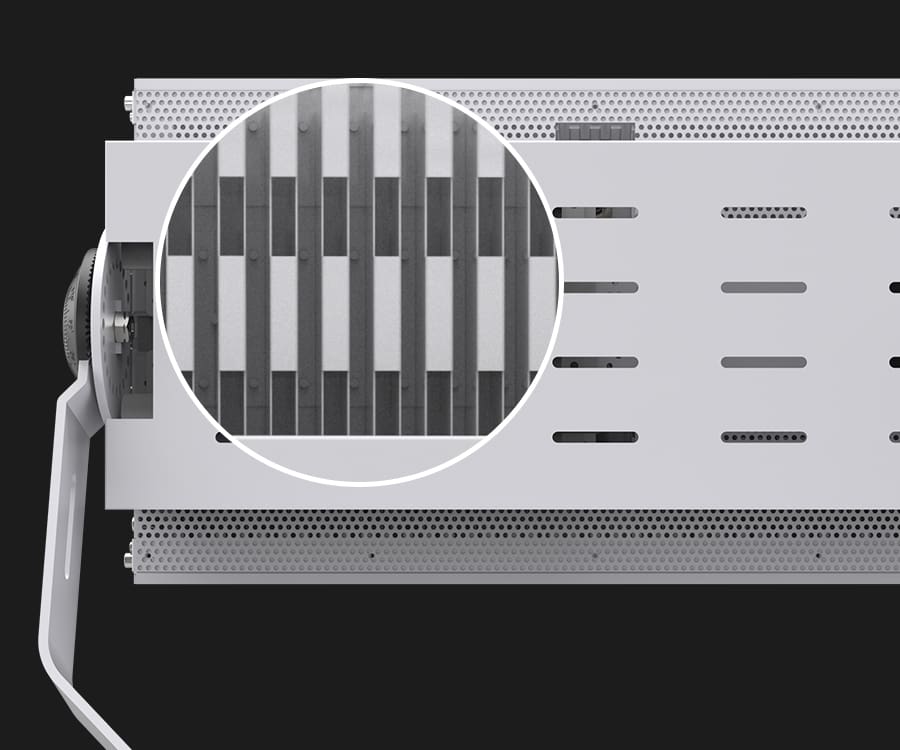 Folding aluminum fin design
Lightweight, fast heat dissipation. Increase the heat dissipation surface area by air coolingto dissipate heat and expand the contact area with air! It speeds up the spread of heat! Thermal effect is good.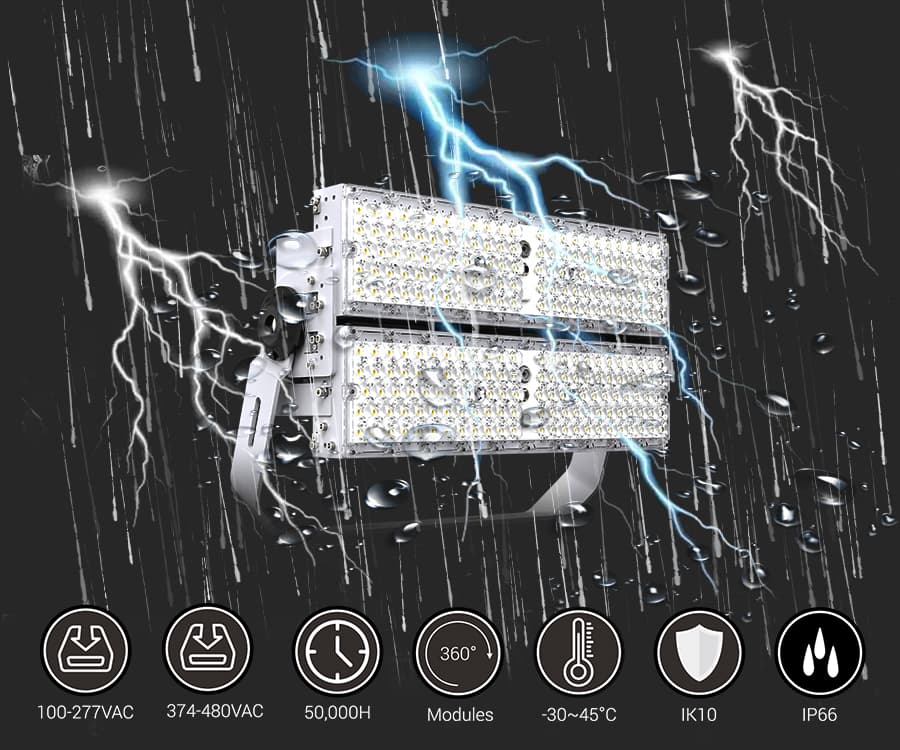 IP66 & Lightning protection & IK10
IP66 & Lightning protection & IK10. Waterproof IP66 and lightning protection 10/20KV, IK10 protective design allows Slim plus led sports light to withstand harsh environments;
IP66
Lightning protection
IK10
50,000H
-30~45℃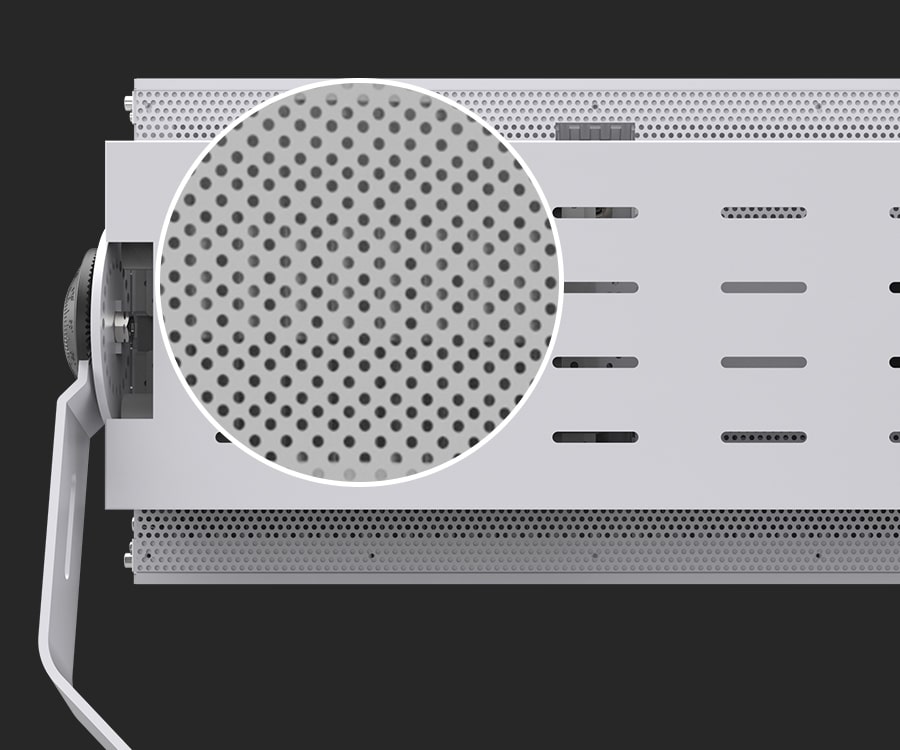 Dustproof net
The radiator of Slim Plus LED Flood Light adds a layer of dust net to prevent more dust from affecting heat dissipation, and it is also easier to maintain later.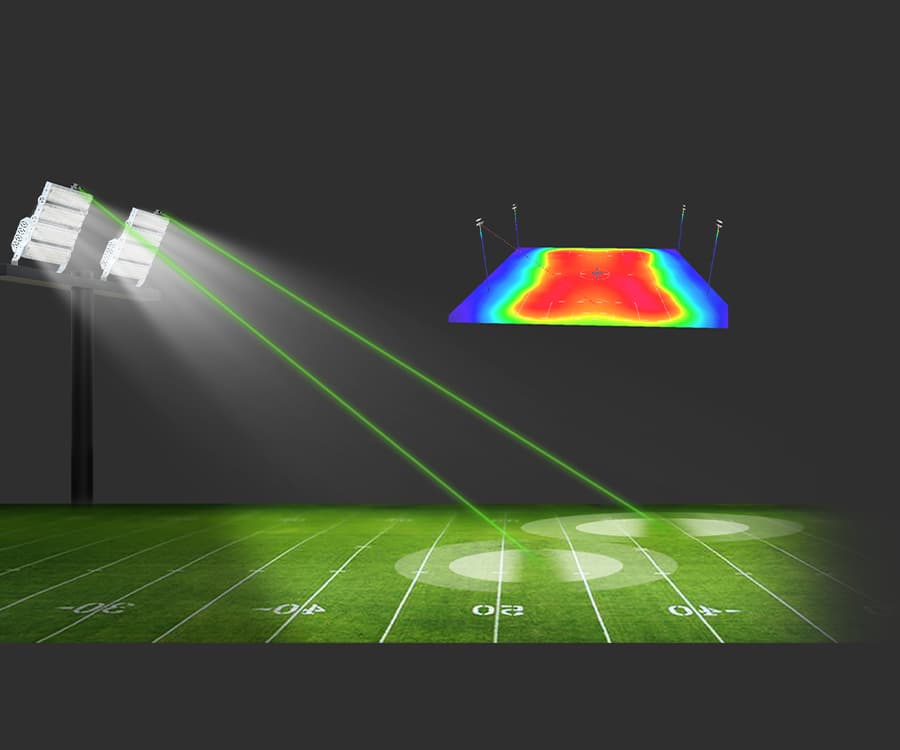 Laser pointer calibration
Laser Tech, help to do final calibration. It is more convenient to control the illumination direction of the lamp during installation.
Laser pointer calibration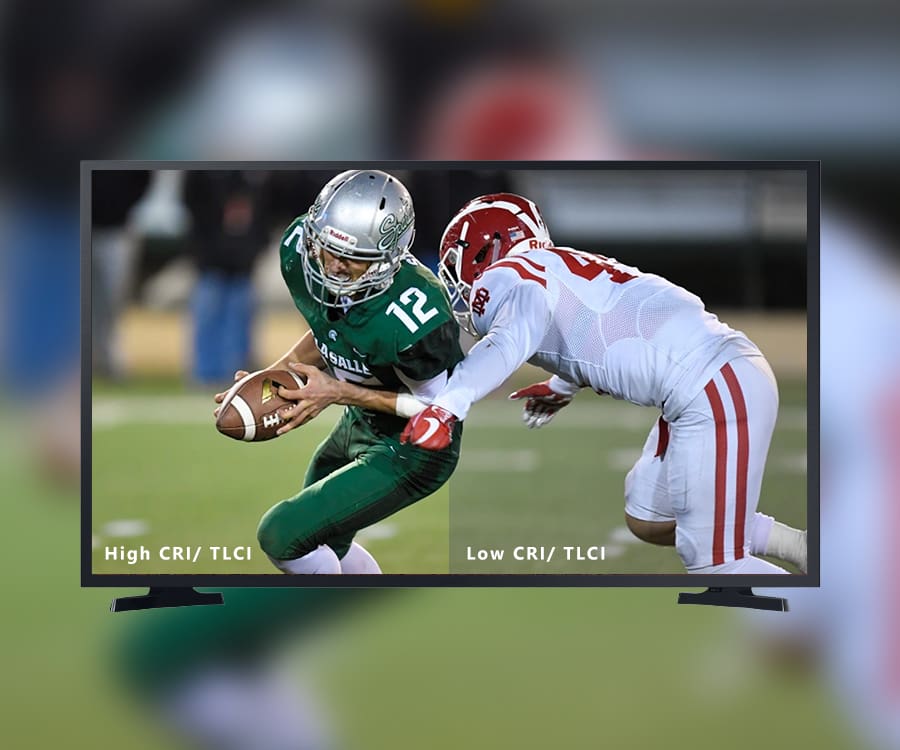 Higher quality lighting
The lampshining Slim plus series LED high mast light can achieve high-quality lighting, CRI> 80. If there is a higher requirement for lighting, we can customize CRI> 90.
Other Watt
Slim Plus LED Flood Light is available in wattage from 200W to 1500W, which is the best choice to replace the existing MH/HID street lights of 500W-3000W.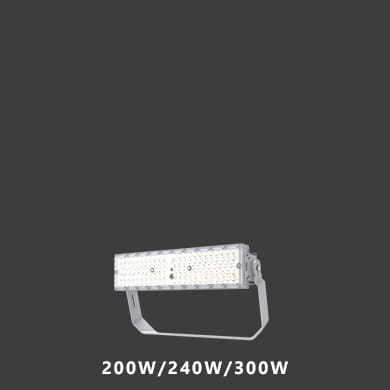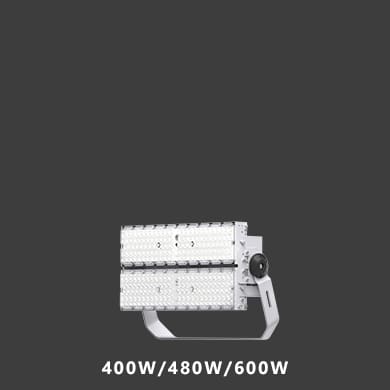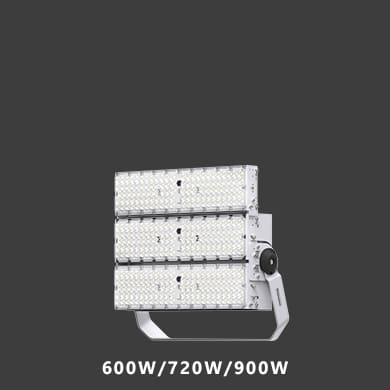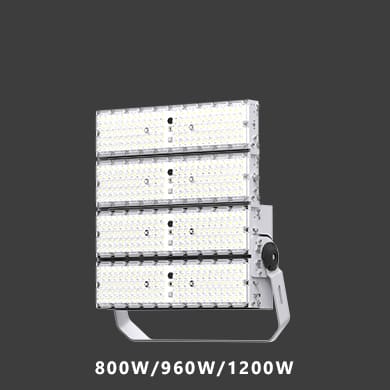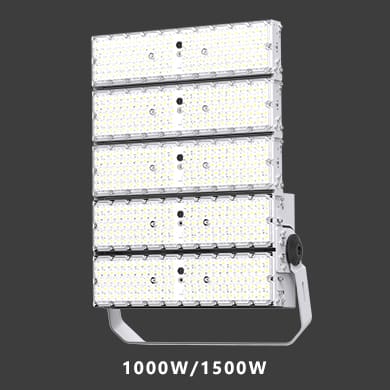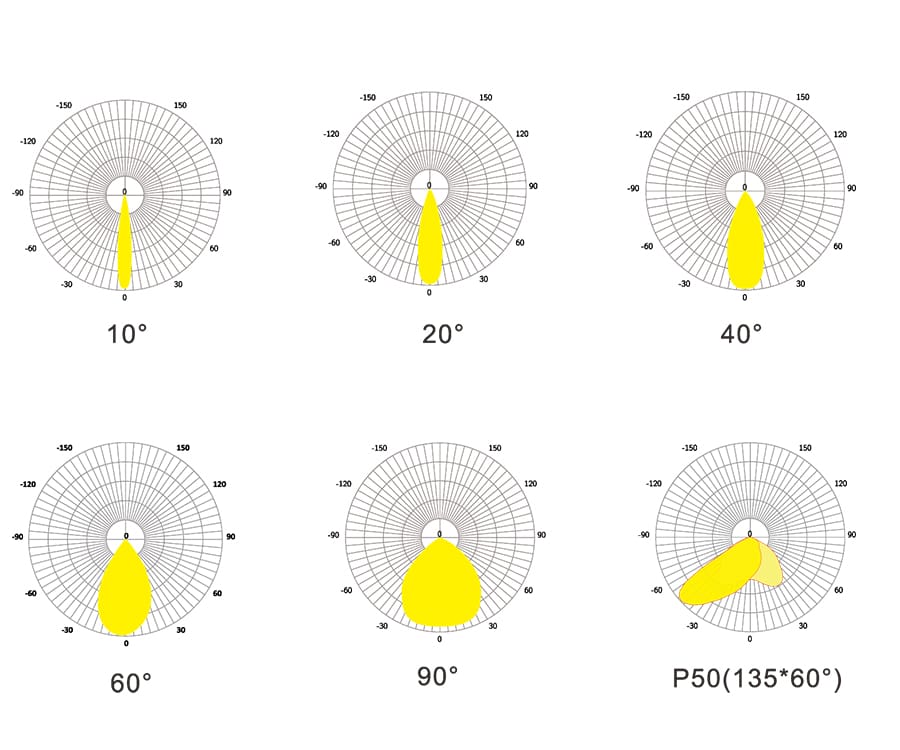 Beam Anlge
The beam angle can be selected from 10/ 20/ 40/ 60/ 90/ P50(135*60 degree). Professional light distribution angle can better achieve uniform and efficient lighting effect.
10 degree
20 degree
40 degree
60 degree
90 degree
P50(135* 60 degree)
Application
Can illuminate intersections, squares, docks, ships, ports, construction sites, cranes,Tennis courts, basketball courts, soccer fields, etc.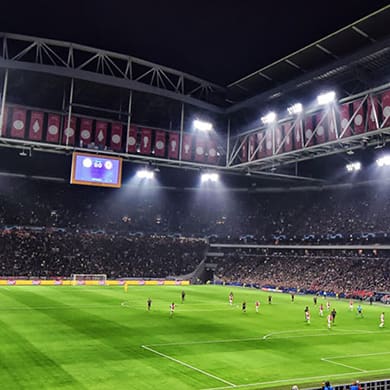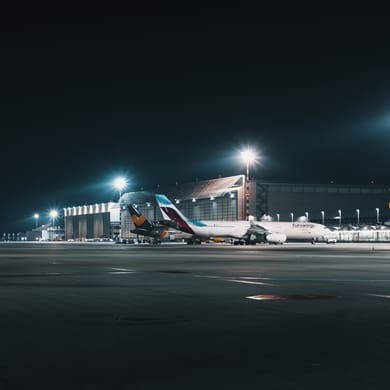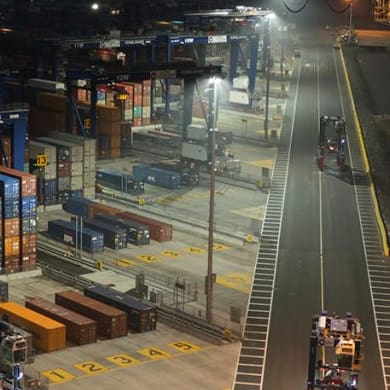 Accessories
| | |
| --- | --- |
| 10KV or 20KV SPD | |
| 1-10V Dimmable | |
| 347-480VAC(Sosen driver) | |
| Dali dimmable(Sosen driver) | |
| Anti-glare plate | |
| Laser pointer | |
Anti-glare Cover(optional)
Bending lamp mounted Bracket(optional)
Optional tilt angle bending bracket, more convenient installation
| | |
| --- | --- |
| Watt | Size |
| 480W/ 600W | 1pc/ 565*382*155mm |