Specifications
Model
LSHM‐720W‐LV(XXK)PLUS
LSHM‐900W‐LV(XXK)PLUS
Watt
720W
900W
Lumen
122,400
144,000
Efficiency
170Lm/W±3%
160Lm/W±3%
Driver
Meanwell 3*ELG-240-48A
Meanwell 3*ELGC-300-H-A
Input Volt
100-277VAC
Chip Brand
Lumieleds 5050

CCT
4000K, 5000K
3000K-6500K
Weight
13kg
14.5kg
Size
565*434*155mm
IP Rating
IP66 & IK10
Wind rating
51.0-56.0m/s
CRI
Ra70 (Ra80, Ra90 optional)
Life Time
L70/B10 >50,000hours
Dimmable
Dimmable and Non-dimmable
Warranty
5 Years / 7 years extended warranty available
Beam Angle
10 / 20 / 40/ 60 / 90/ 140*100/ 135*60 degree(P50)
Certification
TUV, CE, CB, SAA, RoHS, LM79, LM80, TM21, IK10, Salt Spray test approved
720W 900W LED High Mast Light, Outdoor High Power Anti‐glare LED Lighting
Lampshining new 170Lm/W 720/900W outdoor high power LED high mast lighting fixtures replace traditional lighting fixtures and can immediately improve the quality of lighting in stadiums, large areas, roads, ports, and airports, and reduce energy consumption by as much as 75%. And passed the TUV, CE, CB, SAA, RoHS, LM79, LM80, TM21, IK10, Salt Spray test approved.
Anti-glare will reduce the vertigo effect. This feature is very important for roads or stadiums. Our 720w / 900w LED high mast light anti-glare lens can be installed to achieve anti-glare effect without other operations. And the efficiency is as high as 170LM / W. Higher efficiency means that fewer lights can be installed to obtain higher quality lighting , Security is better.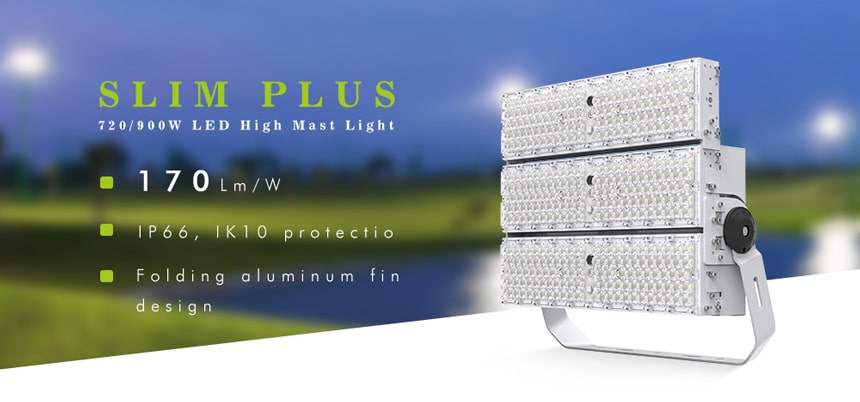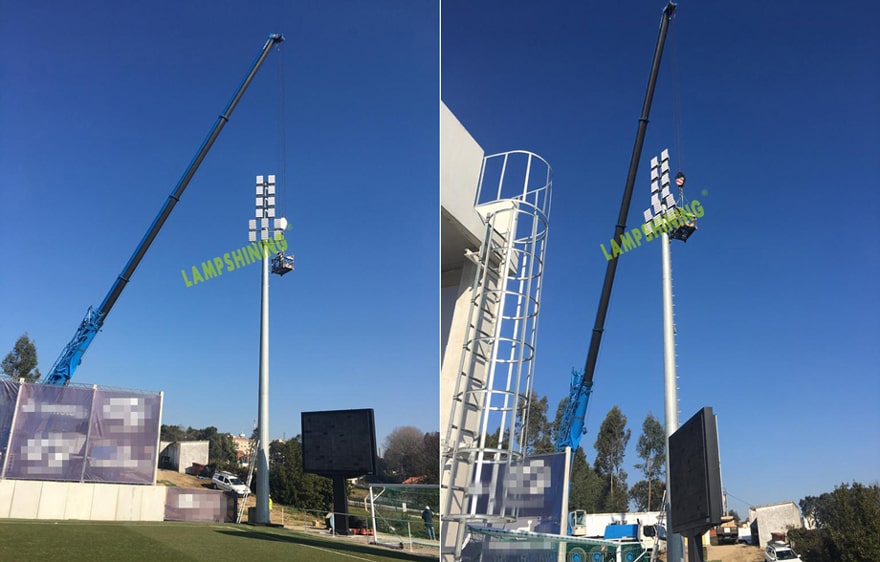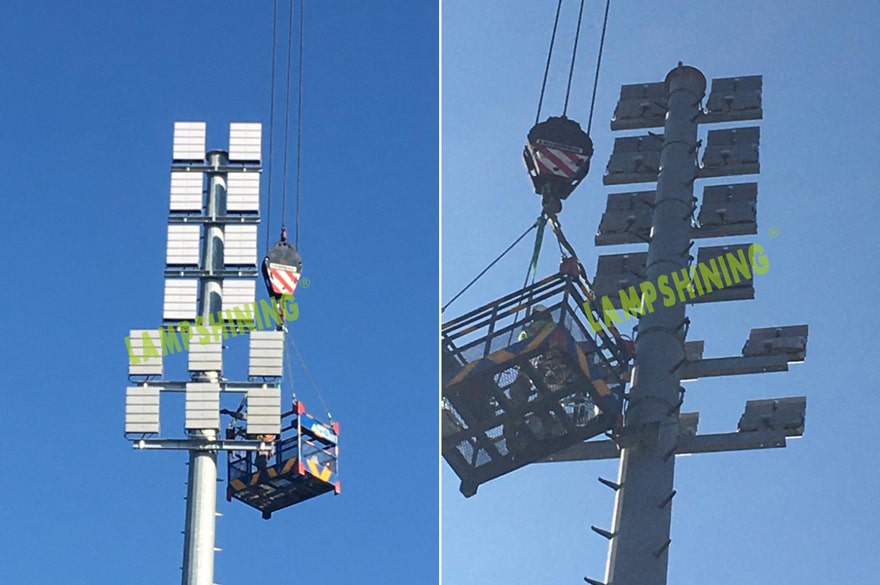 Size
565*434*155mm
Feature
1. High luminaire efficiency up to 170lm/w;
2. Marine grade aluminum housing;
3. IP66 and IK08 protection rate;
4. 5 years warranty;
5. Folding aluminum fin design which are very light weight;
6. TUV, CE, CB, SAA, RoHS, LM79, LM80, TM21, IK10, Salt Spray test approved;
Why Choose 720W/900W Slim Plus LED High Mast Light?
1.High Efficiency
Uses high quality Lumileds 5050, LED High Mast Light Efficiency up to 170Lm/W. Save more energy consumption.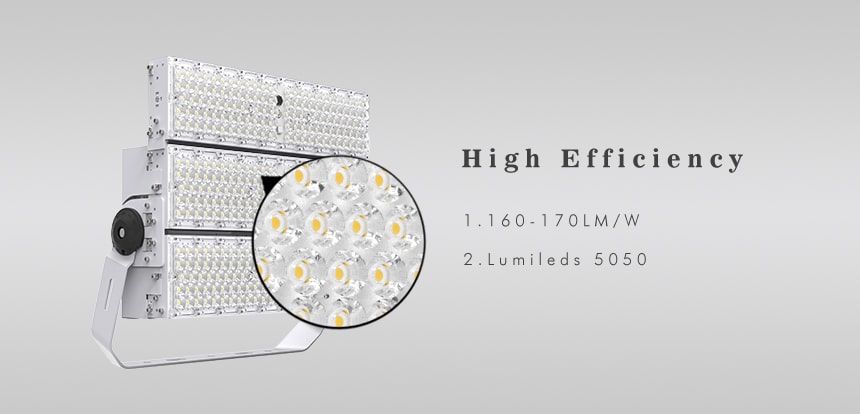 2.Heat dissipation
Folding aluminum fin design which are very light weight. Increase the heat dissipation surface area by air cooling to dissipate heat and expand the contact area with air! It speeds up the spread of heat! Thermal effect is good! Compared with traditional die-cast aluminum and profile aluminum, which is heavier and there are certain safety risks. On the contrary ,the aluminum fin heat sink are more secure.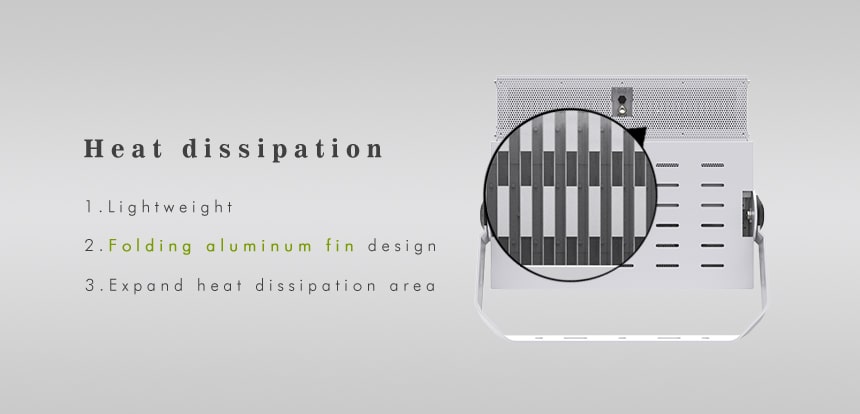 3.Dustproof net
protect the lamp from other debris.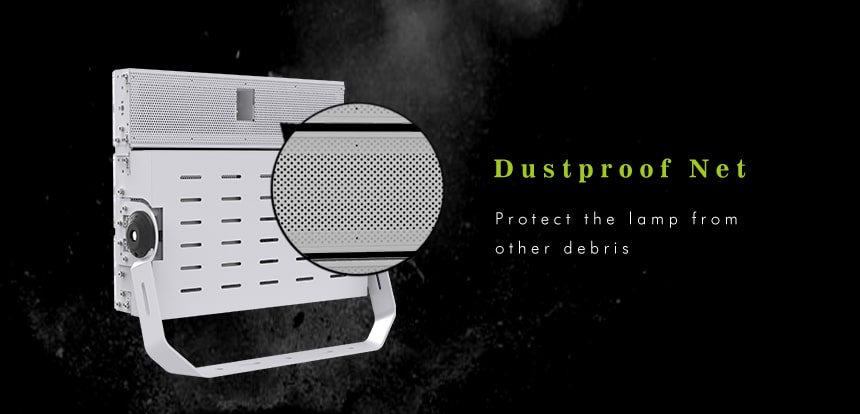 4.Waterproof IP66
Waterproof IP66, safer for outdoor use.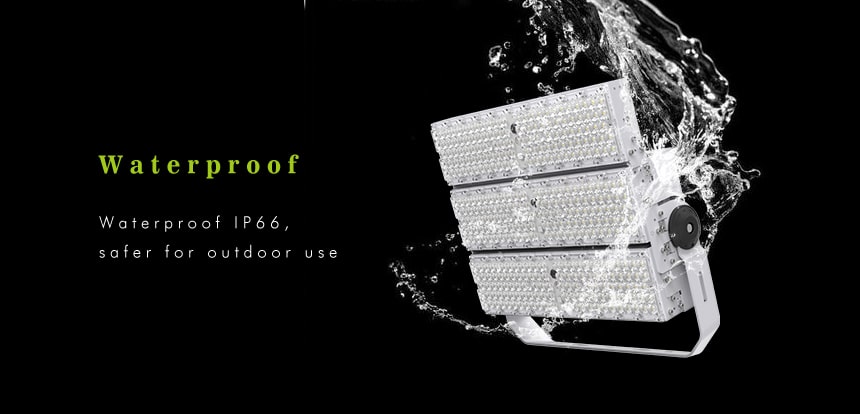 5. Higher quality lighting
The lampshining Slim plus series LED high mast light can achieve high-quality lighting, CRI> 80. If there is a higher requirement for lighting, we can customize CRI> 90.
6.Laser pointer calibration
Laser Tech, help to do final calibration.
It is more convenient to control the illumination direction of the lamp during installation.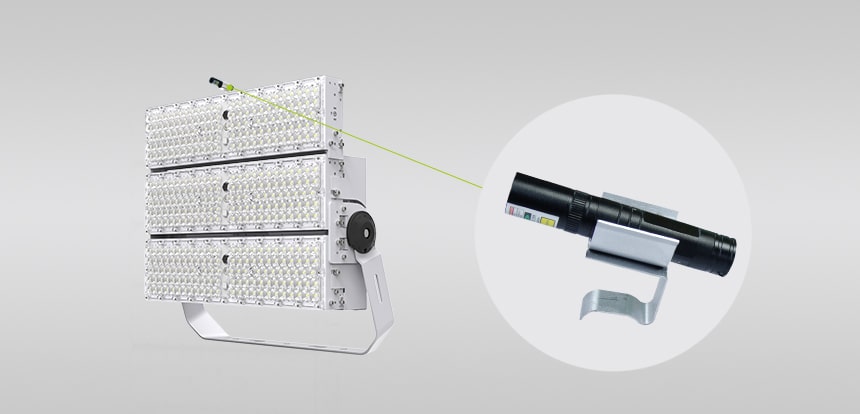 Photometrics
The optical lens is made of PC, and the light transmittance reaches 92%, reducing the loss of light, maximizing the lumen and uniformity of the lighting area and reducing the lighting pollution to nature and human life. Optional 10/20/40/60/90 degree / TypeIV / P50 beam angle.
Certification Testing
Installation
Application

Click to contact us for more detailed information and the latest quotation!