Specifications
Model
LSPSL-100W-LV(XXK)
Watt
100W
Lumen
13,000
15,000
16,500

Efficiency
130Lm/W±3%
150LM/W±3%
165Lm/W±3%
Chip Brand
Lumileds 3030
Lumileds 5050
Input Volt
100-240VAC
CCT
3000K, 4000K, 5000K, 5700K
4000K, 5000K

Arm Dia
42/ 60/ 78mm
Size
611*233*120mm
Weight
3.1kg
Driver

Meanwell XLG-100-H-A/ Moso X6-105M062/ Moso XCP-105M062
Housing
Grey
Surge protection
10KV
IP & IK Rating
IP66 & IK08
Beam Angle
TypeII, TypeIII
Lifespan
L70B20 >100,000hrs
Thermal Management
Natural air cooling
Replacement
105-125W HPS, MH, HQI
Certificates
SASO, REACH, ENEC, ENEC+, TUV, CE, RoHS, CB, SAA, IECEE, LM79, LM80, LM82, TM21, Salt Spray Test, Photobiosafety Test, 3G Vibration Test, Sand Test, UV Test
100W LED Street Light
A minimal total cost of ownership was the driving force behind the development of the Pluto range. It is equipped with LEDs and various dimming and remote management options for a dramatic reduction in energy consumption. It offers a very competitive alternative to luminaires equipped with traditional light sources such as highpressure sodium lights.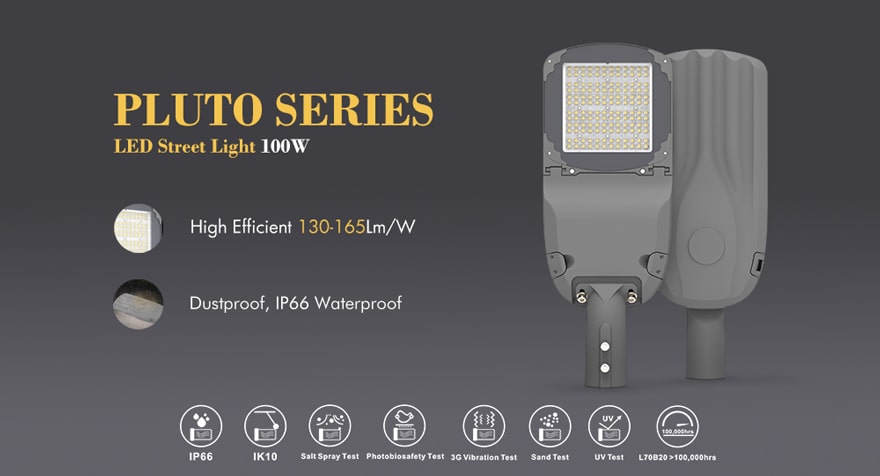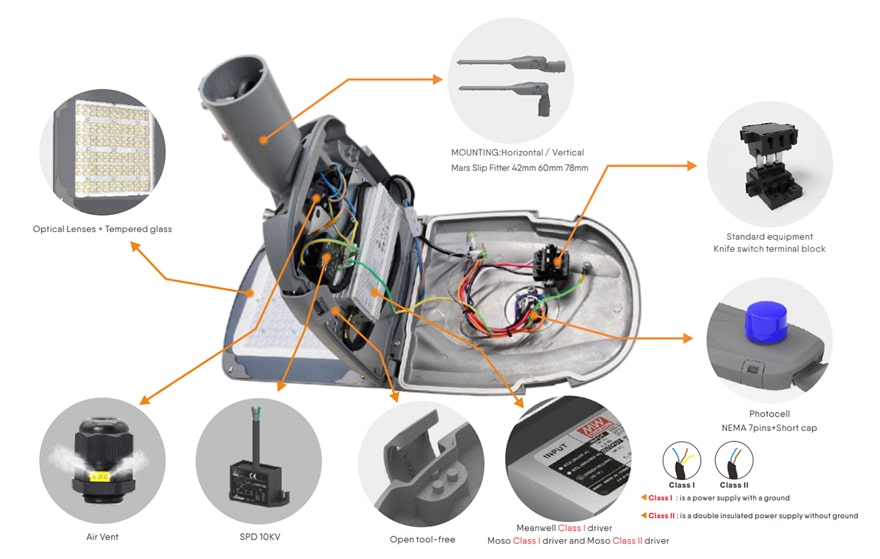 Certification
Pluto series LED Street Light has extremely high safety and durability. The products have passed SASO, REACH, ENEC, ENEC+, TUV, CE, RoHS, CB, SAA, IECEE, LM79, LM80, LM82, TM21, Salt Spray Test, Photobiosafety Test, 3G Vibration Test, Sand Test, UV Test certification.

Size
Feature
Very suitable for park roads, alleys, and other small and medium-sized areas

Complete illumination across the entire roadway

No external reflectors required

Safe for industrial applications

High-performance design

Dramatic energy savings
Pluto Tiny Model LED street light is a perfect solution for secondary roads, parks gardens and pathways. It is aesthetically appealing due to its compact design and oers wide range of outdoor solutions with reduced cost of ownership. It can very well replace most of the fluorescent based luminaires (CFL/FTL) and also ensures uniform lighting distribution.
Continues to raise the bar on performance and lower the total cost of ownership by delivering higher value to municipalities and facility managers. The new Pluto Tiny Model LED street light with its unrivalled lumen output for roadway lighting and economic performance expands the application range replacing up to 150-250W HPSV/MH street lights.
The new Pluto series of street lights can be quickly removed without tools, which means maintenance and installation will be very convenient and fast.
Pluto Tiny Model series the perfect fit for a wide array of roadway applications helping to improve the economic value for development authorities, municipalities or owned utilities.
Waterproof and lightning proof
Highly resistant housing, IP66 waterproof and lightning protection allow PlutoLED street lights to operate in harsh environments.
Self-cleaning

1.The smooth body would greatly diminish dust accumulation, and minimize environment impacts to the fixture's performance and lifespan.
2.The dust will be washed away automatically by the wind and rain with the unique circular arc design and smooth surface, which is good for the lamp fixture heat dissipa-tion when all the dust is gone away.
Photocell sensor
Optional light battery sensor, PlutoLED street light will automatically turn on at dusk, automatically turn off at dawn, more energy efficient and convenient.
Photometrics
TYPE II TYPE III beam angle optional
Certification Testing
Pluto led street lights will undergo rigorous various tests before they leave the factory to ensure the quality of the lamps.
Including: 1.3G Vibration test 2.Salt Spray test 3. Waterproof test

Mounting optional
This Series LED Street/Area Light fixture includes simple installation with convenient abjustability.
The LED Street Lights fixture can be mounted horizontally or vertically with our universal slip fit system. simply detach and rotate the slip fitter 180° to achieve the vertical orientation. Both orientation options include the ability to rotate 15degree or more.
78mm/60mm/42mm optional pole mounting holes.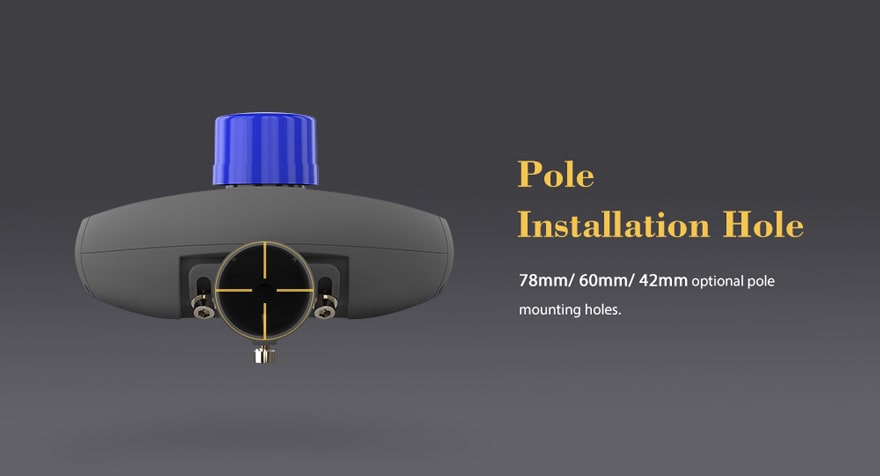 Application
1.Residential Complex
2.Small traffic round - about
3.Lighting of secondary roads / side roads
4.Parks gardens • Security lighting
Accessory: photocell
The Pluto Street Light Photocell integration controls the illumination of the LED street light fixture by detecting surrounding ambient light.
Photocell base comes pre-installed, twist lock cap included in package when shipped and ready to apply during assembly. Twist-Lock Photocell automatically turns lights On at Dusk and Off at Dawn.
Photocell integration controls, Photo-cell: TL1277, 120-277Volt Twist/Lock photocell
Accessory: surge protection device

The standard 100-277v fixture comes equipped with 10kA surge protection already integrated.
SPD surge protection devices is perfectly adapted for outdoor lighting to provide single phase protection for line/neutral, line/ground and neutral/ground in accordance with IEEEE C62.41 2002 C High,UL1449 and IEC61643-11
Accessory: mounting

The LED Street Light comes standard with a 60mm slip fitter.